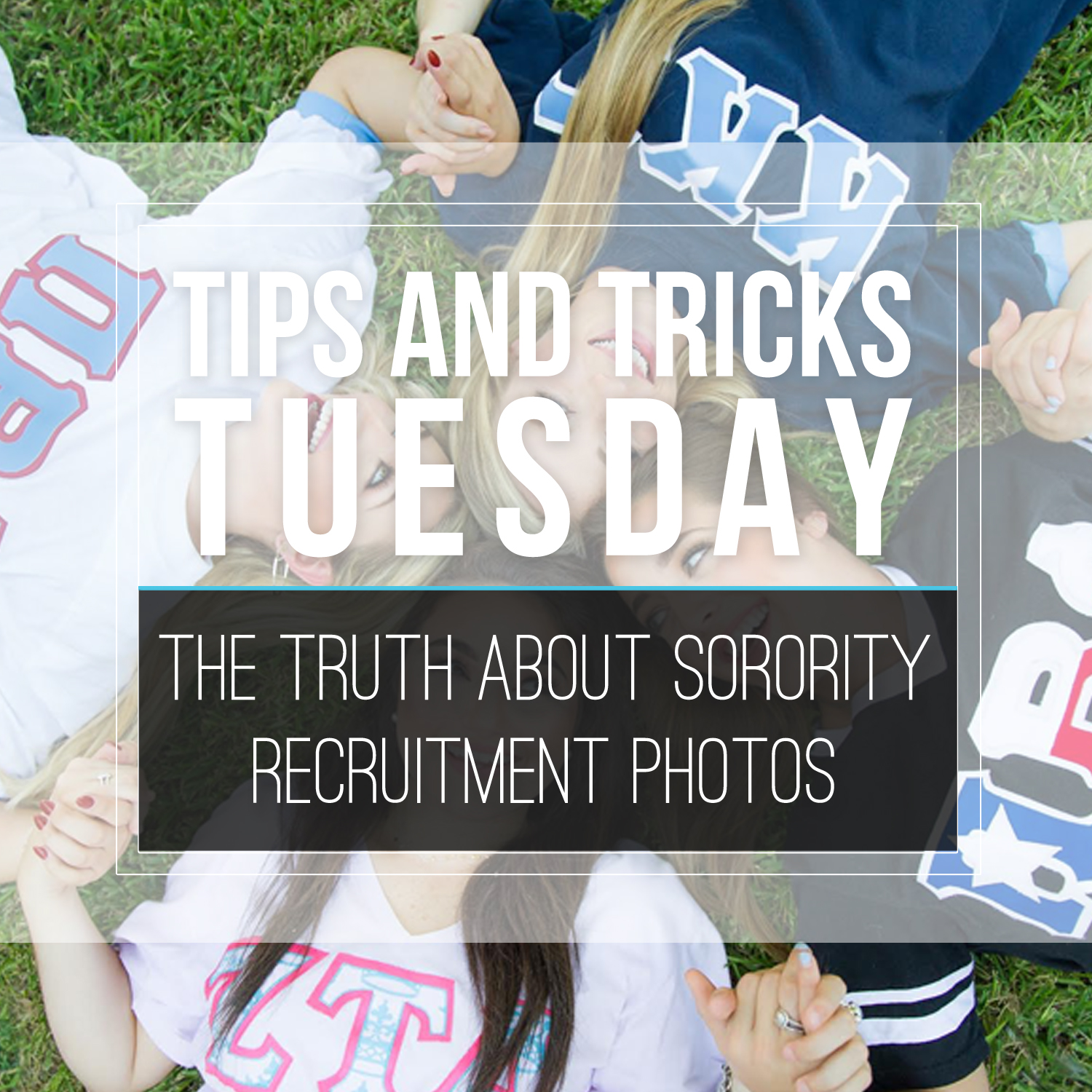 As a photographer and former sorority member, my clients come to me all the time with questions about the sorority recruitment process. Specifically, they want to know exactly what it takes to make the best impression in their senior portraits – the photos typically submitted for recruitment.
For the record, I totally recall what it was like to be in my clients' shoes. I, too, was once a high school senior anticipating my college future in a sorority. I had little idea of what to expect, let alone what was expected of me, and while I was excited, I was just praying that some of the stereotypes surrounding greek life weren't true.
However, once I started the rush process, my fears totally melted away. After walking into a room full of cheering, celebratory chapter members, I was met with warmth and kindness by some of the most grounded people I had ever met.
As a photographer, I have found that people not only make unjustified assumptions about what it's like to be in a sorority, but they also make similarly incorrect assumptions about what is required for sorority recruitment photos. Bottom line: there is a lot less to worry about than you might think.
Here are some COMMON MYTHS I've come across when it comes to recruitment photos:
Myth #1: You are being judged solely on your appearance.
Reality: The real reason why the recruitment team and chapter want photos of you is because they want to be able to recognize you when you walk in the door. That's really it. While you certainly want to look your best in your pictures, the most important thing is that you look like yourself. The girls you are going to meet during recruitment want to get to know you, and being able to attach a name to the face is going to make that first introduction so much easier.
Rest assured that no one is using these images to size you up, but rather, they simply want to make a connection with you and recognize you the second you walk in the door.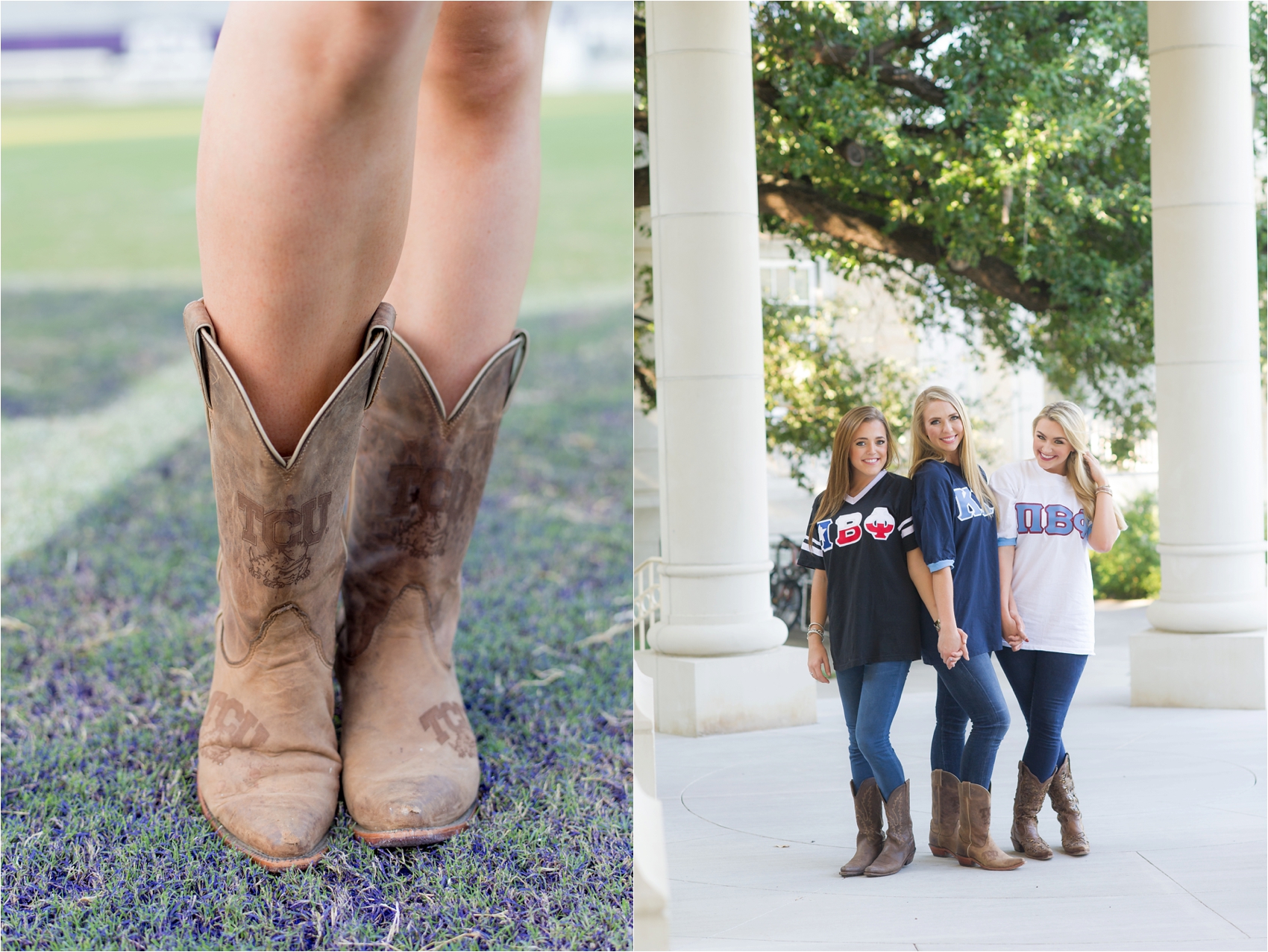 Myth #2: There is a sorority girl "type" and you have to look the part in your pictures.
Reality: This is a stereotype that tends to fall to pieces the minute you start recruitment. In sororities, you'll find girls from all different walks of life, all with a unique way of presenting themselves. That said, there's no need to be concerned about fitting a "type" when it comes to dressing for your recruitment photos. Instead, it's important to focus more on representing yourself well.
Of course, in terms of what you wear, there are some things to keep in mind. For example:
While you should absolutely dress in what makes you feel comfortable,

 you don't want anything to distract from you as the subject

. That means you probably should stay away from wearing items like low-cut tops or rompers, shorts, and dresses that are too short. My golden rule is wear something that you wear when you're around your grandmother! 

Keep it modest and classy.
Textures and bold colors photograph best. However, pastels, bright white, neons, and busy patterns are often not so flattering.
In terms of shoes: wedges, boots, converse, booties, and heels tend to photograph well. Sandals, flats, and flip-flops often make the picture look too casual and blend in.
Bring several outfit options to your shoot so that your photographer can give you an idea of what will look best in photos.
Before your shoot, remember to try on your clothes so that you have a sense of how everything fits. That way, you can look and feel your best throughout the session.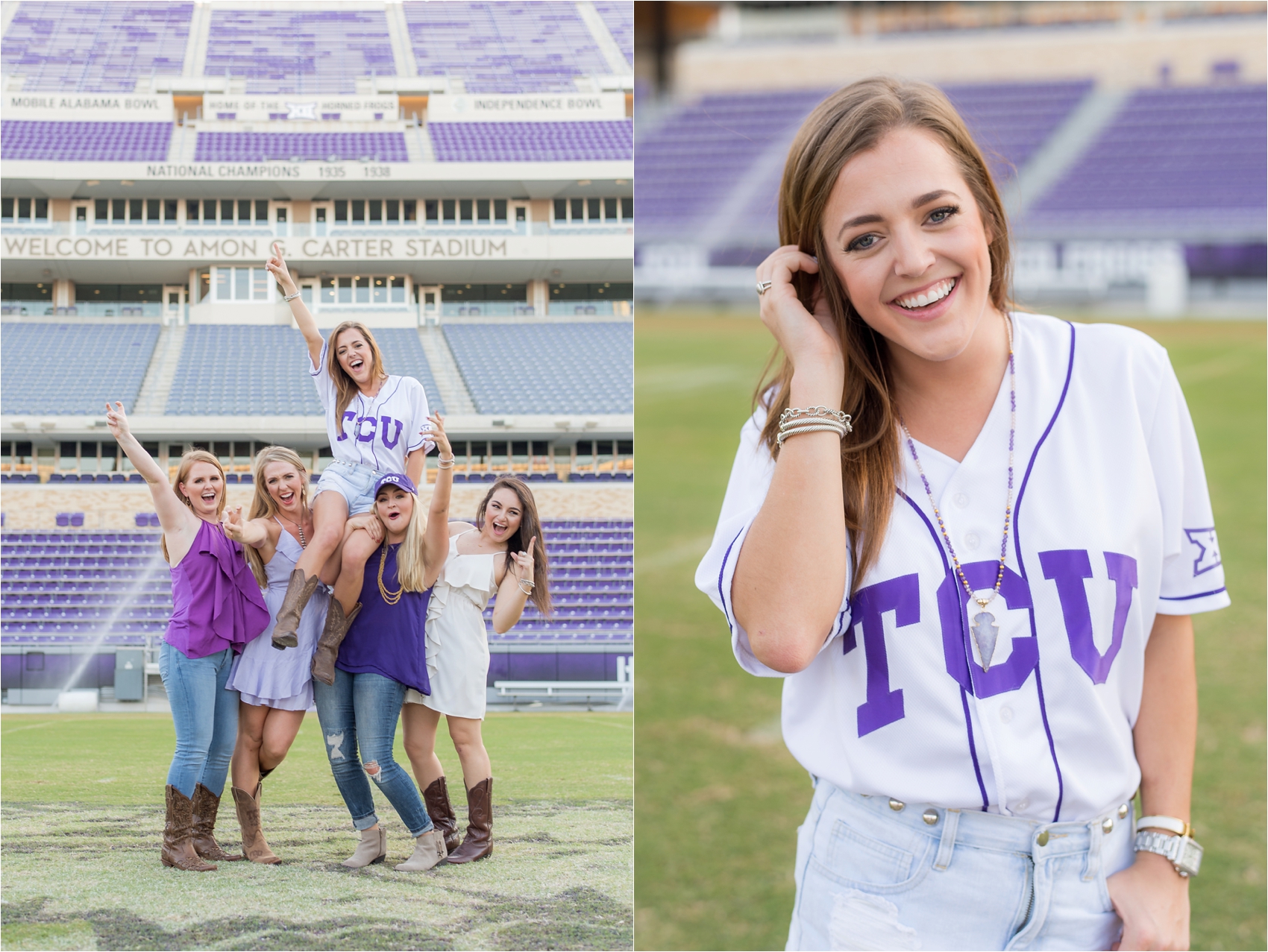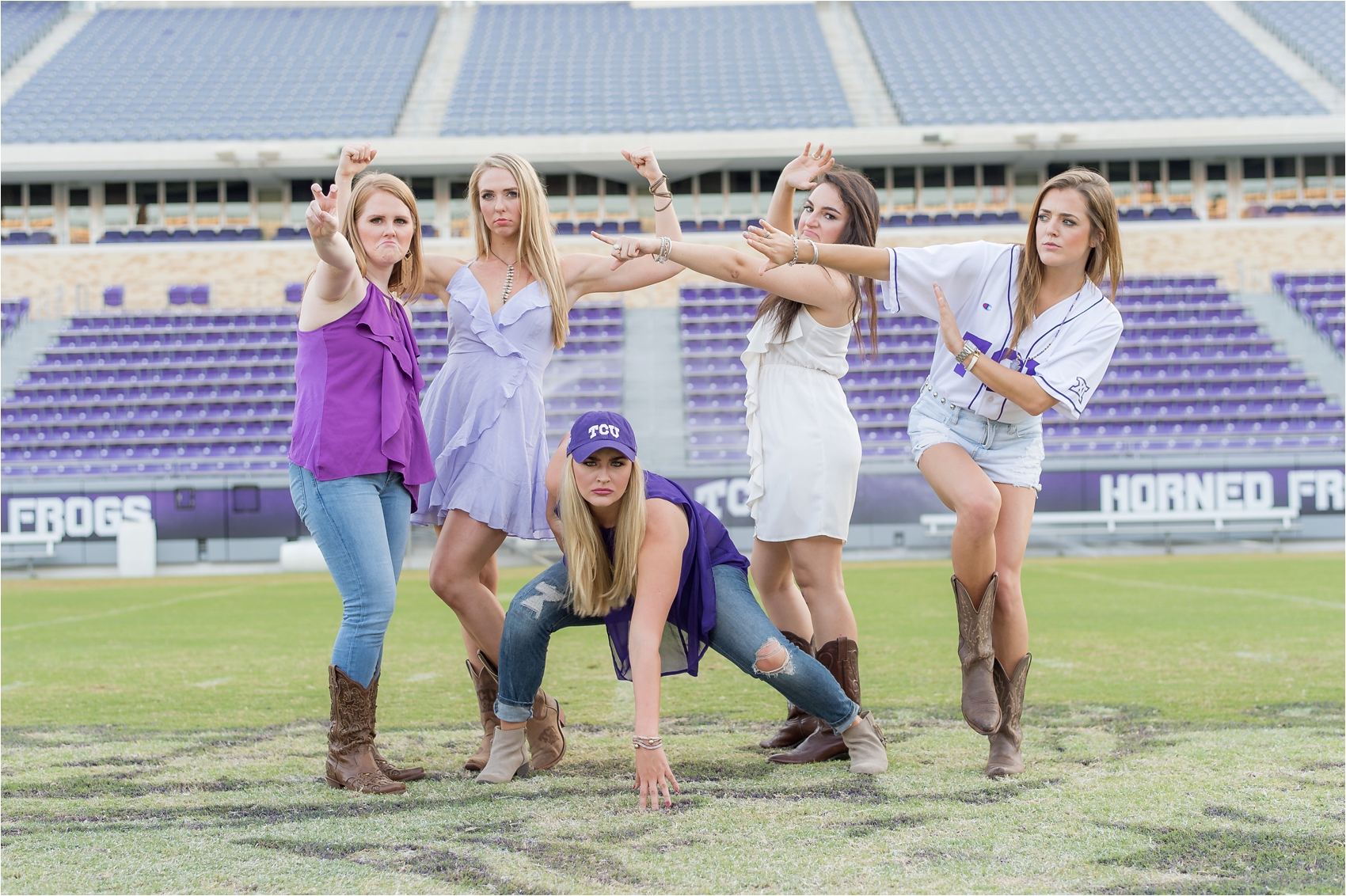 Myth #3: The background for your photos needs to be simple.  
Reality: As long as you are the focal point of the shot, the background of your pictures really doesn't matter. Whether it's an urban background, nature scene, simple backdrop – whatever the case, your future sorority is not really going to mind. A good rule of thumb is to choose a location that you like and that your family will enjoy looking at on their walls for the next 20+ years.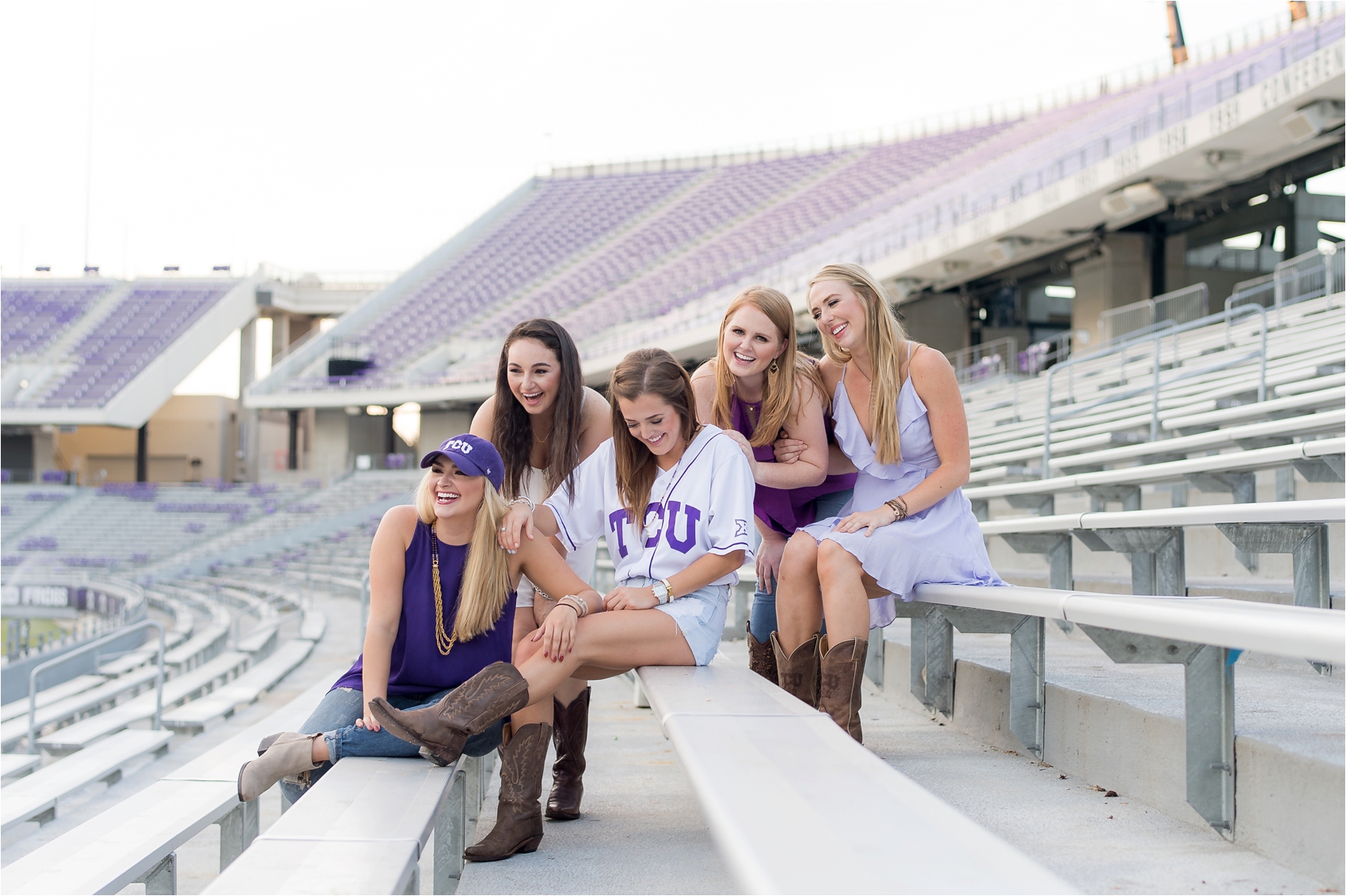 Myth #4: You should stick to classic poses (i.e. wear pearls and hug a tree).
Reality: There really was a time in which the conventional sorority recruitment photo involved a girl wearing a black t-shirt, pearls, and hugging a tree. We have certainly come a long way since then, and thank goodness for that.
The truth of the matter is your pictures should showcase who you are, so trust your photographer to guide you to poses that make you feel like yourself. I mean, think about it. You wouldn't introduce yourself to someone by striking a "vogue" pose or by putting both hands under your chin. The same goes for your recruitment photos. Choose images for your recruitment pictures where you are smiling, looking at the camera, relaxed, and most importantly, look like yourself.
But psssst….don't send in selfies. Even though we all love the way we look in our iPhone selfie camera, it's simply not a professional look when it comes to recruitment.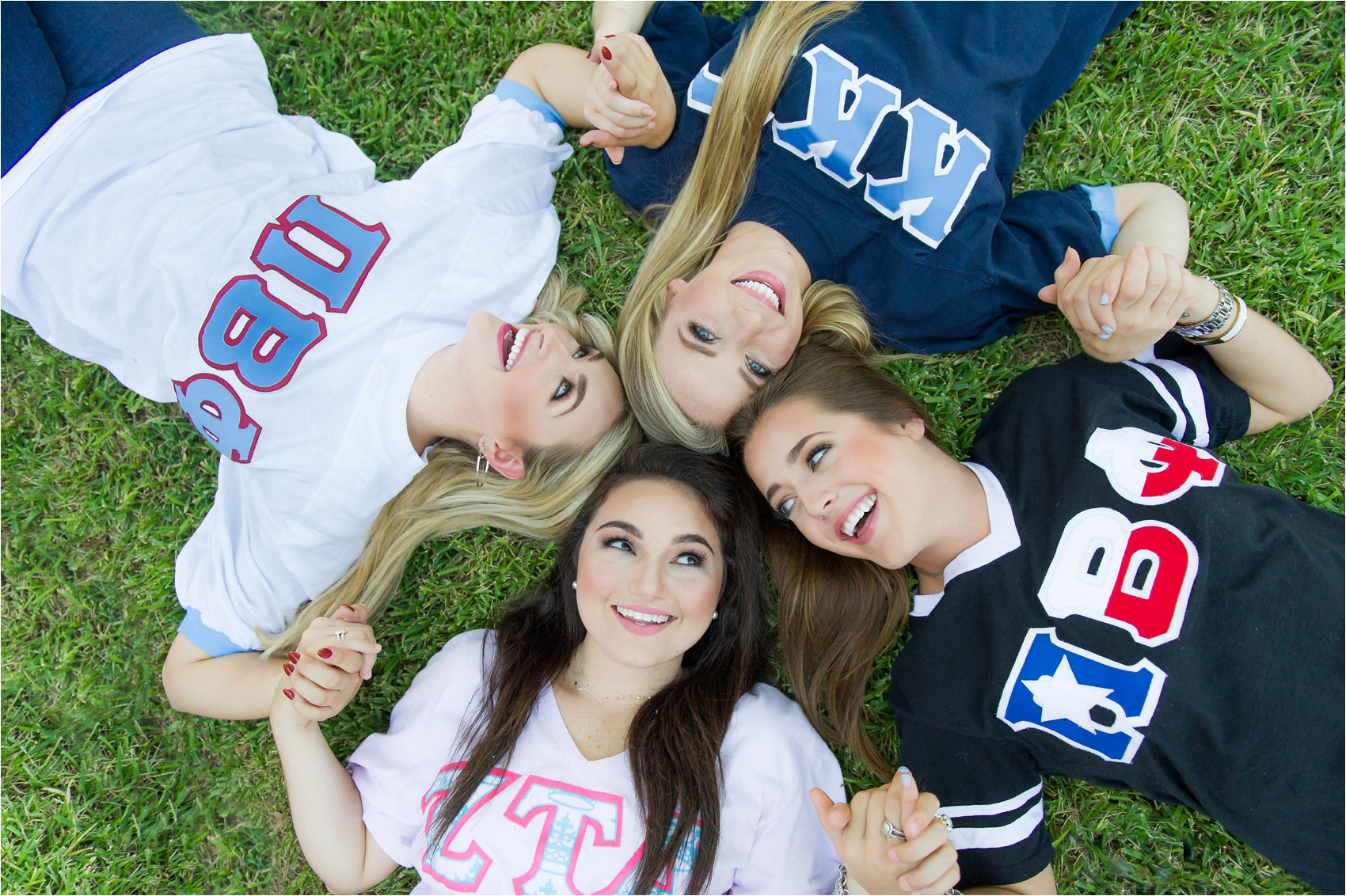 Myth #5: Your manicure matters.
Reality: For the most part, I would say the way your nails look in your recruitment photos is another thing that really doesn't matter. Personally, I prefer natural-colored nails or French because they are timeless and they won't stand out in photos. Many chapters are required to have neutral-colored nails during recruitment, so this is likely a good rule of thumb for potential new members going through the process.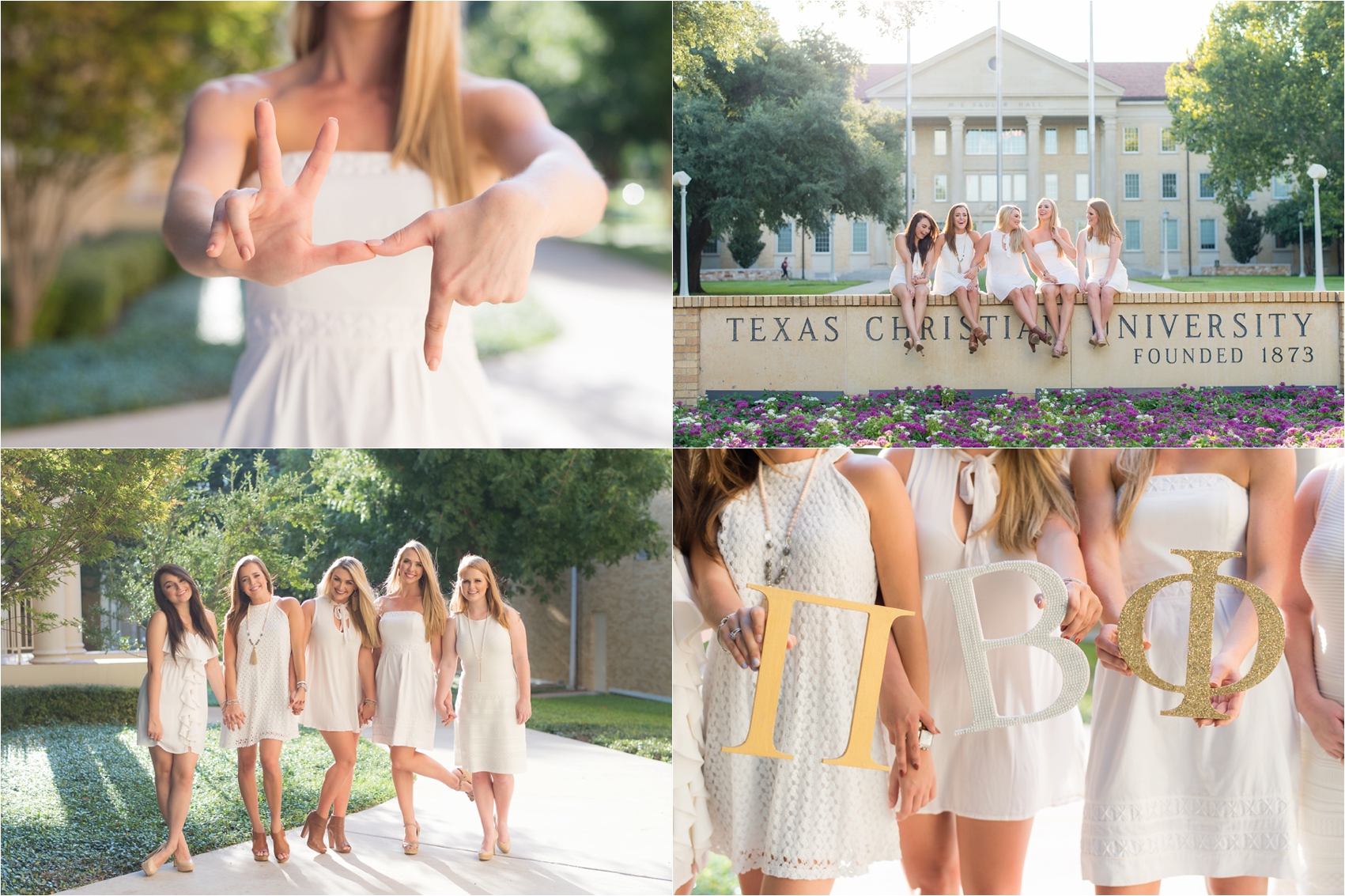 Myth #6: You can't feature unique hair and makeup in your recruitment photos.
Reality: Again, these pictures are all about making you as recognizable as possible. So if you have green hair in your recruitment photos – great! – but if that's the case, you should also have green hair at recruitment. Try to make sure that any obvious changes to your appearance are done before you take your senior portraits. That way, you can ensure that the recruitment team and chapter know who you are.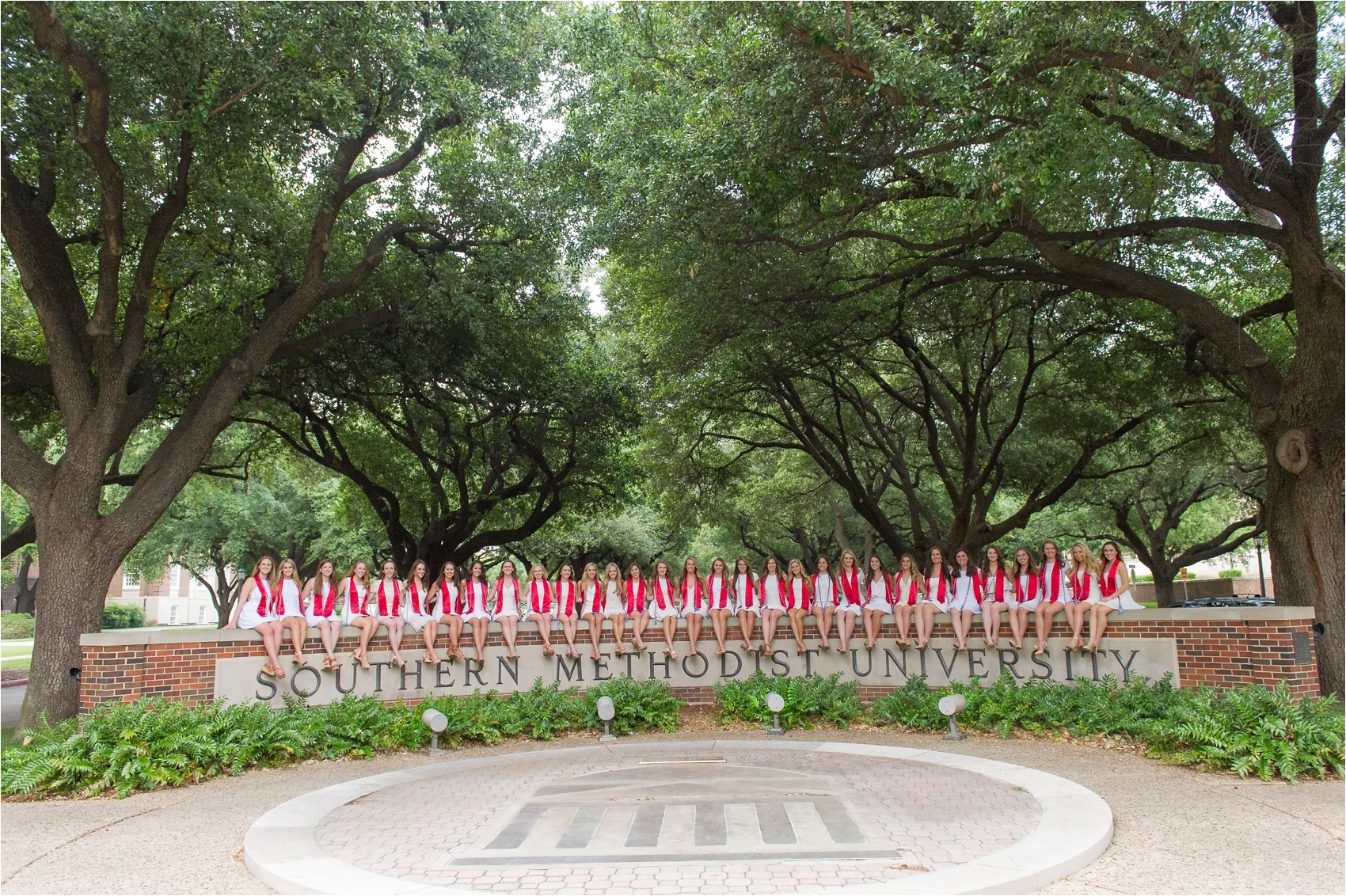 At the end of the day, recruitment is all about being yourself, and the same should be true for your recruitment photos. Still, there are definitely some things to keep in mind as you prepare your recruitment packet.
Here are some quick TIPS you should remember:
When submitting your recruitment packet, make sure to include a headshot, a ¾ body shot, and a full-length image.
It's a great idea to use one of your recruitment photos as your social media profile picture. Fair warning: recruitment teams will look on your social media accounts and they might even pull a picture off of your Facebook that the entire chapter could see. That said, keep it classy.
Be on the lookout for sorority recruitment deadlines. For the Texans out there, according to a local Panhellenic rep, all paperwork, references, etc. need to be turned in to the chapters by June 1 at the University of Texas and July 1 at all other public universities. You can look on your specific college's Panhellenic website for more details and information. It is also recommended to have all of your packets sent to the alumni by April 1 so they have enough time to write your letters. (***This was true for the past year, so check with your university or local Panhellenic group for dates for the upcoming school year)
If you have any questions or need a reference, be sure to reach out alumni groups in your area. They have the answers to all of your questions about recommendation letters, deadlines, packets, etc.
***Thank you to Christy O'Shoney for helping me out by writing this blog post!
***Thank you to Grand Slam Glam for doing makeup for our beautiful models from TCU!
***Thank you to the 2016 SMU Senior Pi Phis!